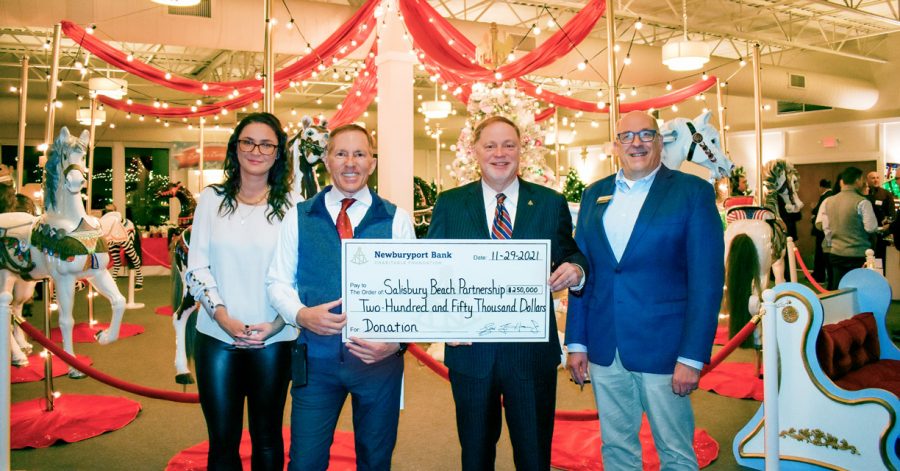 Salisbury Beach Partnership Announces $3 Million Project to House Historic Carousel on Salisbury's Oceanfront
Newburyport Bank Donates $250K to Carousel Project, Will Open Broadway Micro Branch
December 1, 2021
Salisbury, MA — Demolition of the existing structure at 7 Broadway begins this week as the parcel–that has sat idle for 25 plus years–is readied for construction of a brand-new pavilion style structure to house the Salisbury Beach Partnership's rare, century-old Looff Mangels Historic Carousel.
The modern new building will enclose the historic hand-carved 1909 wooden carousel to allow for year-round access, provide space for events and activities, and showcase Salisbury as a vibrant oceanfront destination.
Today, Newburyport Bank announced a lead gift to the Salisbury Beach Partnership's Fund for the Historic Carousel of $250K and a commitment to install a micro branch in the new carousel complex. This virtual branch will provide the amenities of a full-sized financial institution in a smaller footprint with an emphasis on high-tech interactions. By incorporating the latest technology, the micro branch will offer secure face-to-face virtual meetings with a bank representative in a relaxed, convenient space.
Installation of the vintage carousel and Newburyport Bank micro branch on Broadway complement the ongoing revitalization investments being made to Salisbury Beach Center including the new Welcome Center and Comfort Station, and the oceanfront boardwalk—all key assets in providing a positive visitor experience.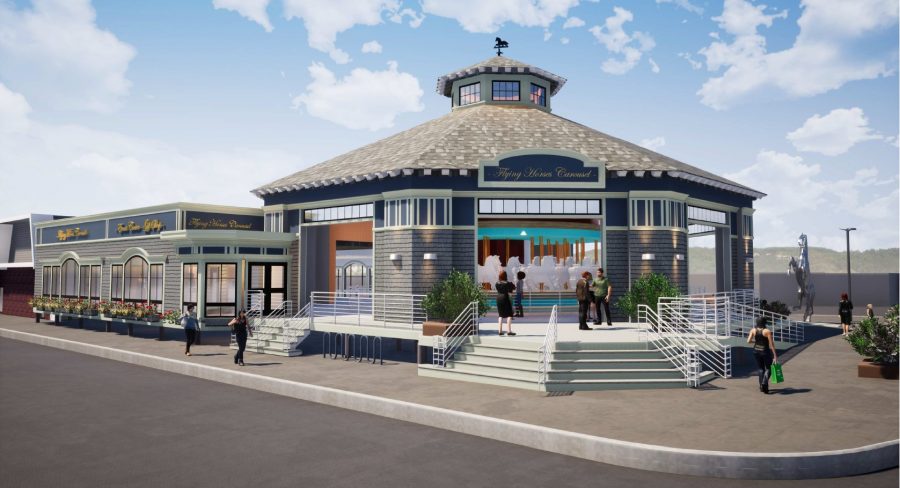 The return of a historic carousel also restores a popular ride attraction and beloved family tradition of riding the Broadway Flying Horses at Salisbury Beach. After 60 plus years in seacoast Massachusetts, the original Salisbury Beach carousel was sold and moved to Santa Monica, California. In 2019, the Partnership acquired one of the few remaining menagerie carousels hand-carved by Looff-Mangels original artisans of the craft.
"Now, this stunning 112-year-old piece of history is here and we are poised to build its forever home," said Salisbury Beach Partnership President Wayne Capolupo, "The new landmark all-season attraction will create a better, stronger must-see destination for future generations, and bring more visitors and revenue to the region."
Salisbury Beach Partnership will continue to raise up to $1 million in funds to house and preserve the carousel. The carousel is predicted to begin operations in the next two years, with a projected opening date of Spring 2023.
The Partnership's newly launched Adopt A Horse program provides an opportunity for local businesses, organizations and families, to sponsor a carousel animal for 20 years. 12 of the animals are on display at the SeaFestival of Trees through Sunday, December 5. More info about this program can be found here.