Salisbury Beach Center Beautification

Beach Center Beautification Program
Help us keep Salisbury Beach welcoming and accessible. The Partnership's goals are to:
create public open space that is welcoming,
create better access to the waterfront, and
implement environment-friendly programs that promote trash management, encourage recycling, and help keep the beach clean and accessible.
Timeline of Accomplishments
Beachfront Stage
A centerpiece of the beachfront, a state-of-the-art stage hosts free concerts, programs and events for public enjoyment throughout the season. With the Atlantic Ocean and Salisbury's pristine beach as the backdrop, there is no better place to see live music while savoring refreshing salt air breezes.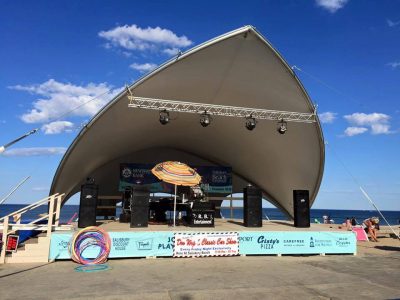 Flowers & Public Open Space
Colorful flowering planters and seating areas line the Broadway Mall. This joint effort between the Town of Salisbury and the Salisbury Beach Partnership, offers delightful public open space and a place for residents and visitors to relax and enjoy the outdoor oceanfront environment. Each summer, the Partnership provides new plantings and maintains the beautiful blooming foliage.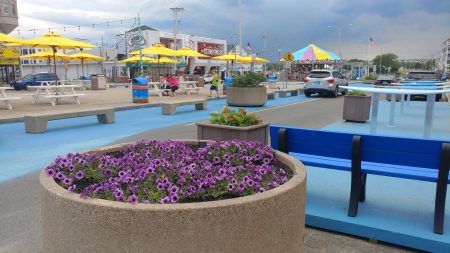 Shade Structures
Made possible by generous sponsor donations, three pergola shade structures give visitors the opportunity to spend time out of the sun on the Broadway Mall park area.
Thank you to our donors! Cristy's Pizza and The Mulcahy Family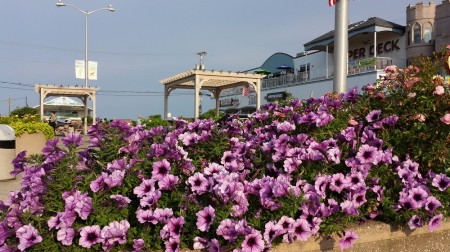 Oceanfront Boardwalk
There is nothing like a stroll on Salisbury's public boardwalk above the dunes along Oceanfront South. Opened in 2017, the handicapped-accessible 450-foot-long boardwalk boasts dramatic views of the Atlantic, benches, and a shade shelter.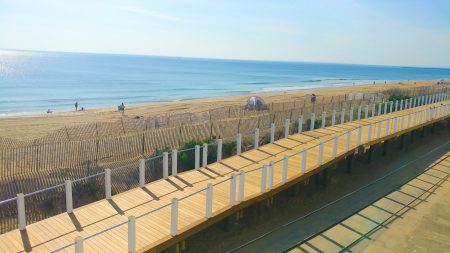 Trash Barrels to Treasured Art
Local artists put their paint brushes and talent to work creating one-of-a-kind art creations on Salisbury Beach Center's trash barrels. From mermaids and sharks to breathtaking seascapes, these receptacles are calling all visitors to keep the beach clean and dispose of their trash responsibly.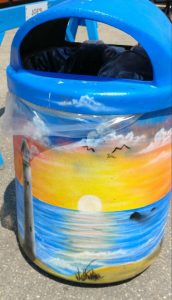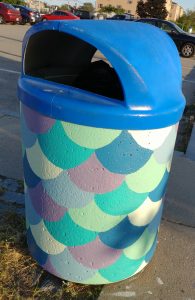 COMING SOON! New Welcome Center & Restrooms
Two new structures will provide clean, modern facilities for beach goers and visitors. A welcome center at the head of Broadway features ample restrooms, a tourist information area, and tiered outdoor seating. A second comfort station structure includes outdoor shaded seating, a picnic plaza, and rinse stations. Both are slated to open by the end of 2021.