BEACHES/OUTDOORS
Coastal Rail Trails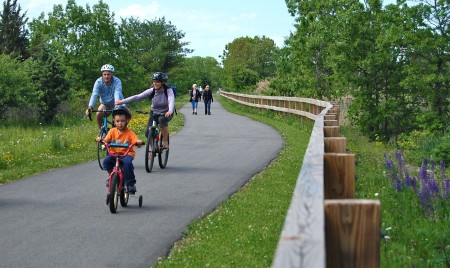 Salisbury's Coastal Trails, an integral link in the Coastal Trails Network, offers close to 5 miles of trails for biking, walking and bird watching. Enjoy the great outdoors on these fabulous trails
Salisbury Point Ghost Trail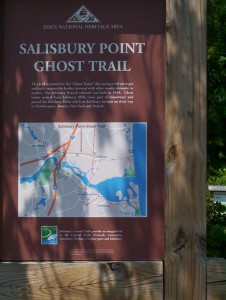 This trail extends 1.8 miles west from Lion's Park and crosses Cushing St. There is a parking area at the Bartlett St. crossing. This is a hard-packed, well-maintained, stone dust trail suitable for walking and biking. It passes through beautiful woodlands and features native wildflowers in the early Spring. Named for the "Ghost" trains that transported early automobile bodies (covered with white muslin shrouds) from Fisher Body in Amesbury through Salisbury with their "ghostly" freight on their way to Boston, Detroit and New York. Passenger service was also popular on the Salisbury rail line, and people could travel throughout New England from Salisbury. In 1936 passenger service was discontinued.
Old Eastern Marsh Trail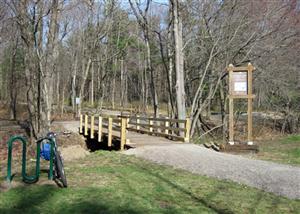 This 1.4 mile trail extends from the Merrimack River to Mudnock Road. It passes through pristine sections of the Great Marsh with beautiful views and world class bird watching. The trail has been paved and is now open for exploration.
Beach Road Bike Route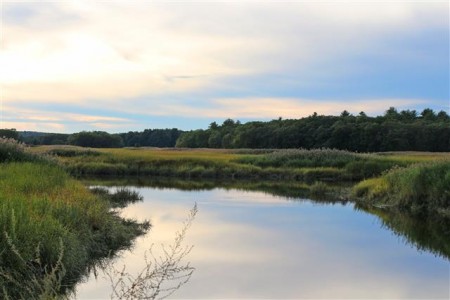 You can ride 2 miles on Beach Road from Salisbury Square to Salisbury Beach, one of the most beautiful beaches in Massachusetts. Salisbury Beach State Reservation offers swimming, fishing and camping to the public. Salisbury Beach Center is a beachfront business and amusement area. Stop in for some fun and refreshments.
Salisbury Beach State Reservation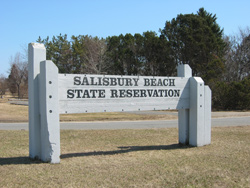 With 3.8 miles of sandy beach along the Atlantic Ocean, Salisbury Beach State Reservation offers swimming, boating, fishing, camping and wildlife viewing. It is one of the state's most popular ocean beaches.
Facilities include a 484-site campground with renovated bathhouses, an extensive day-use parking lot, three new comfort stations for the beach-going public with boardwalks that take you over the dunes, a playground and pavilion area. The facility also has two boat ramps that are located on the Merrimack River at the campground's southern edge.
Reservation Entrance:
Beach Road,
Salisbury, MA
978 462-4481
Beach Center Access:
Broadway and Oceanfront North,
Salisbury, MA
The following listings highlight businesses that donate funds to support the Salisbury Beach Partnership summer events. Please support our sponsors!
CLUBS & NIGHTLIFE
Blue Ocean Music Hall
4 Oceanfront North
Carousel Lounge
20 Oceanfront South • Salisbury • 978-465-9045
Splash Liquid Lounge
3 Broadway • Salisbury • 978-465-7752
SurfSide Beach Bar and Grill
25 Broadway • Salisbury • 978-463-9222
The Upper Deck & Normandy Lounge
Broadway • Salisbury • 978-465-5815
DINING
Capri Seaside Italian Grille and Bar
3 Central Avenue • Salisbury Beach • 978-462-7543
Cristy's Pizza
11 Broadway • Salisbury • 978-462-2640
Jilly's Pizza
26 Broadway • Salisbury • 978-465-2455
Seaglass Restaurant & Lounge
4 Oceanfront North • Salisbury • 978 462-5800
SurfSide 5 Beach Bar and Grill
25 Broadway • Salisbury • 978-463-9222
Tripoli Pizza
Broadway • Salisbury • 978-465-3846
FUNCTION FACILITIES
The Pavilion at Salisbury Beach
4 Oceanfront North Salisbury 978-462-5800
ICE CREAM & CANDY
Willey's Candy Store
4 Broadway • Salisbury • 978-465-5541
ENTERTAINMENT
FAMILY ACTIVITIES
Carefree Arcade
14 Oceanfront South • Salisbury • 978-465-022
Video & arcade games.
Joe's Playland
Two locations at the heart of Salisbury Beach:
12 & 15 Broadway
978-465-8311 • 978-465-1928
Video & arcade games, photo booths, kiddie rides, prizes, snack bar
Salisbury Beach Carousel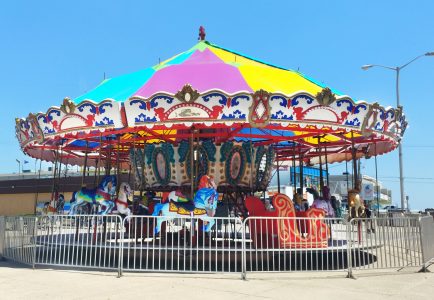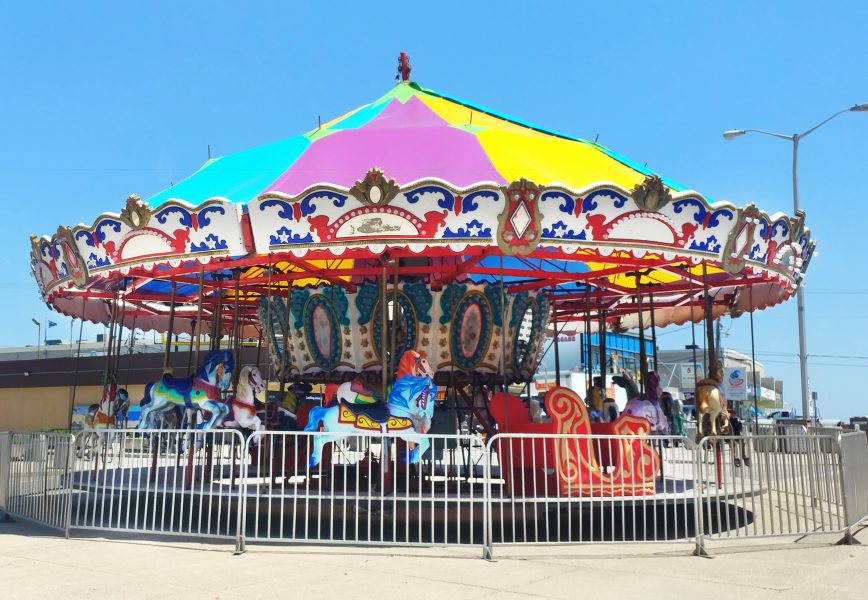 Located on the Broadway Loop
Come take a ride on your favorite horse at the Salisbury Beach Carousel!
Preseason Hours (May 27 – June 22):
Saturday 12-8PM + Sunday 12-6PM
Summer Hours (June 23 – September 4):
Mon-Thurs 1-8PM, Fri 12-9PM, Sat 12-10PM, Sun 12-8PM
Tickets sold at Salisbury Discount House as well as Newburyport Five Cents Savings Bank at Crossroads Plaza in Salisbury.
Tickets $3/ride or 4 for $10
SERVICES
BANKING
Newburyport Five Cents Savings Bank
3 Merrill Street Cross Roads Plaza • Salisbury • 978-462-8771
The Provident Bank
Locations in nearby Amesbury, MA and Seabrook, NH
978-388-9913
HOSPITAL
Anna Jaques Hospital
25 Highland Ave Newburyport, MA • 978-463-1000
SHOPPING
By The Sea Gifts
4 Oceanfront North • Salisbury •
Salisbury Discount House
11a Broadway • Salisbury • 978-465-5796
VACATION RENTALS & REAL ESTATE
Park Place Real Estate
Salisbury • 978-465-4048 for Real Estate Sales
Shoreline Motel
41 Atlantic Ave • Salisbury • 978-465-2929
Tom Saab Real Estate
Salisbury, MA