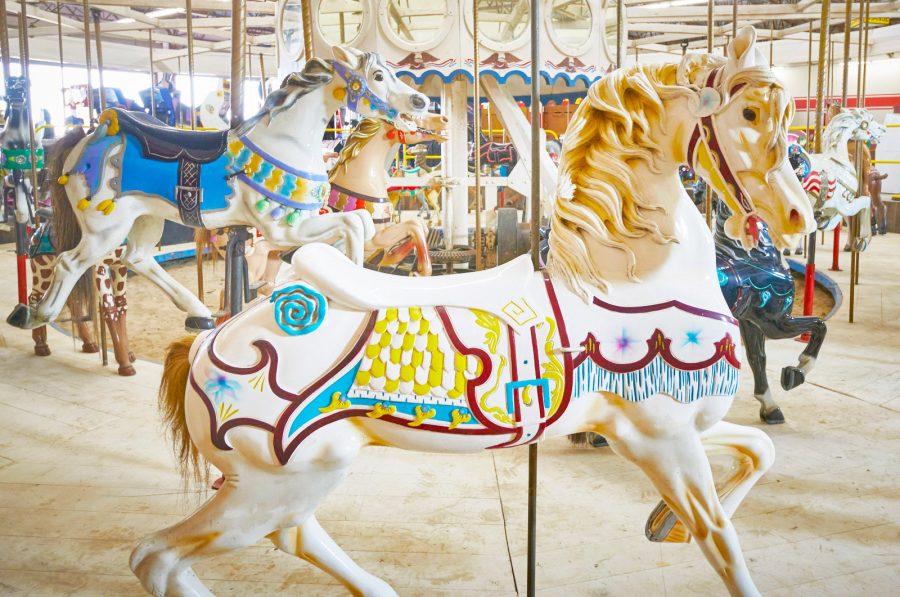 Bringing Back the Magic
Historic Carousel Returns to Salisbury Beach
Old-time merry-go-rounds have nostalgic appeal—the sound of the organ, the whimsical hand-carved wooden animals pumping up and down, and the bright lights reflecting in ornately carved mirrors. No wonder that riders of all ages enjoy taking a spin! Carousels were the first form of mechanical recreation and the origin of modern amusements. Today, less than 100 unique, classic historical carousels remain intact and operational. And Salisbury Beach will soon be home to one of these rare treasures!
Salisbury Beach Historical Carousel Facts
The 112-year-old antique carousel purchased by the Salisbury Beach Partnership was built by W.F. Mangels, one of the most renowned carousel builders of all time, at the Looff factory in East Providence, Rhode Island in 1909.
The historic carousel boasts 44 friendly, hand carved wooden animals–35 horses, 3 giraffes, 3 camels and 3 goats, plus 2 chariots.
Each of the unique, hand-painted animals were meticulously created by renowned carvers such as Charles Carmel, Charles Looff, Harry Goldstein, and Solomon Stein.
The rare 1909 Menagerie Machine, as it was called in the day, was built during the Golden Age of carousels.
New Life for a Magnificent Treasure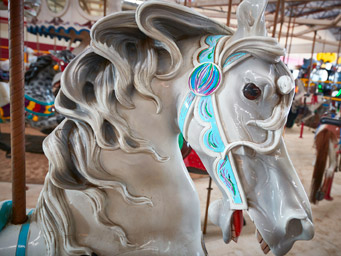 The Looff/Mangels carousel was originally purchased in 1909 by Alfred and Nettie Wintersteen and operated at their Harveys Lake Amusement Park in Pennsylvania. Completely restored in 1990, the carousel remained in the Wintersteen Family for 110 years before moving to Salisbury. With only 300 large carousels of this kind carved and built by the original artisans of the craft, this is a once in a lifetime opportunity to own a true piece of American history and artistry.
The Return of The Historic Carousel
The return of a historic carousel also restores a popular ride attraction and beloved family tradition of riding the Broadway Flying Horses at Salisbury Beach. After 60 plus years in seacoast Massachusetts, the original Salisbury Beach carousel was sold and moved to San Diego, California. In 2019, the Partnership acquired one of the few remaining menagerie carousels hand-carved by Looff-Mangels original artisans of the craft.
"Now, this stunning 112-year-old piece of history is here and we are poised to build its forever home," said Salisbury Beach Partnership President Wayne Capolupo, "The new landmark all-season attraction will create a better, stronger must-see destination for future generations, and bring more visitors and revenue to the region."
Salisbury Beach Partnership will continue to raise up to $1 million in funds to house and preserve the carousel. The carousel is predicted to begin operations in the next two years, with a projected opening date of Spring 2023.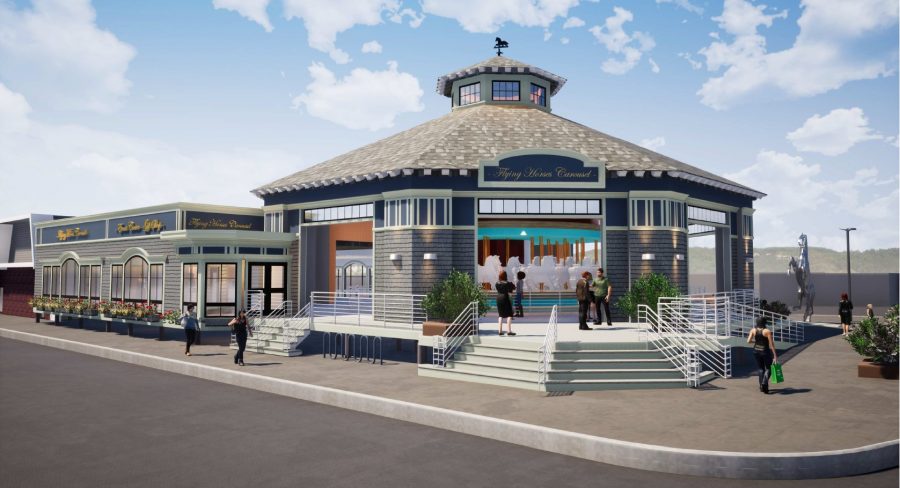 Support the Historic Carousel Fund
Ask about our giving opportunities! An "Adopt a Horse" program is being developed to help pay for the carousel, while private and public funding partnerships are being explored to pay for construction of a storied pavilion to house this magnificent piece of history. Click here for more information.
Completed Adopt A Horse forms can be dropped off at Blue Ocean Event Center, or mailed to Salisbury Beach Partnership, Adopt A Horse Program, 4 Oceanfront North, Salisbury MA 01952. For any further questions email us at info@mysalisburybeach.com. Thanks!
Your contribution of any amount helps us preserve this special piece of history for future generations to enjoy. Thank you in advance!