The Historic Carousel is now open! For more info about The Salisbury Beach Carousel Pavilion Click Here.
Bring Back the Magic! Support the Campaign for the Historic Carousel
"Carousels are magical. They remind us of the child within and bring back many great memories."

Jilda Shaheen Patten
Daughter of Roger Shaheen, owner of Shaheen's Fun-O-Rama & Fun Park 1954-1990
Your contribution of any amount helps us preserve a special piece of history for future generations to enjoy. Thank you in advance!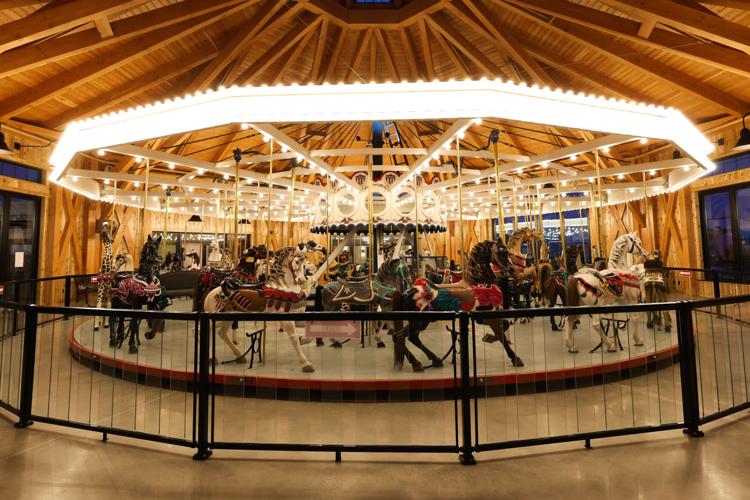 A beloved family tradition is returning to Salisbury Beach
In 2019, the non-profit Salisbury Beach Partnership purchased an antique Looff-Mangels carousel handcrafted by the same artisans who created the original Broadway Flying Horses. Today, a stunning new pavilion is being built on Broadway to house this spectacular historic, hand-carved 1909 menagerie carousel—one of few remaining in the country.
This majestic new landmark will welcome visitors year-round
Inside the octagonal carousel roundhouse, complete with rentable event space and an innovative "micro branch" of Newburyport Bank, visitors will once again experience the joy of riding the carousel on Salisbury Beach.
Now is your chance to make a difference!
The Partnership has raised over $3 million to make this exciting project a reality, but we still need YOUR support to reach our $4.2 million goal. The Campaign for the Historic Carousel offers a diverse range of giving opportunities and payment options. Please consider a tax-deductible donation to honor your family's legacy or showcase your business.
Questions?
Email: info@salisburybeachcarousel.org
Phone: +1 978-467-0600
"For many, carousels conjure up the fondest of childhood memories. The delicate craftsmanship, the bobbing animals and the whistling music all trigger a sensory flashback to a time before jobs, bills and obligations."

Matt Blitz, Smithsonian Magazine, July 2015
The Salisbury Beach Partnership is a 501(c)3 non-profit organization.
Our tax ID number is: 77-0681920.