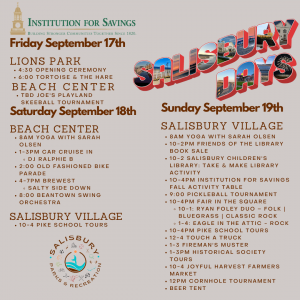 Salisbury Days is a weekend long event inviting those from near and far, old and new to celebrate and showcase our beautiful seaside town. The event is scheduled to take place September 17th thru September 19th. This event is still in the early stages of planning, and this page will be updated concurrently as the planning of this event advances.  The Salisbury Beach Carousel will be open all weekend, click here for our updated hours.
Please stay tuned for more planned events for this year's Salisbury Days!
Information and Inquiries
For more information on this event, please email Jennifer Roketenetz:  JRoketenetz@salisburyma.gov
Visit the event's Facebook page for updates and spread the word!
Salisbury Days hosted by Salisbury Parks & Rec
Sat, Sep 18 at 12:00 AM
Social Share